Clients and Partners:

We hope that you, your colleagues, family and friends are safe and well in this challenging time. As events unfold, we will provide regular updates on multifamily market conditions and related topics.




We are seeing a drop in Broker Opinions of Value (BOVs), listing activity and tour volume amid travel restrictions and shelter in place orders. However, activity remains surprisingly strong with transactions still coming to market this week and scheduled closings largely proceeding as planned. Though yesterday's unemployment report was bleak, we believe the multifamily sector remains a preferred asset class over the long term, as layoffs or reductions in pay impact home ownership in favor of rental properties.
Demand for multifamily among investors has not abated. While several early stage marketing efforts are on hold as markets adjust daily to the current environment, virtually all delayed transactions are expected to ramp up fairly quickly when we return to a more normalized capital markets environment. Transactions with the highest probability of getting done right now typically involve private capital in local markets, 1031 exchanges and recapitalizations. When clarity and stability return, transaction volumes are expected to surge dramatically as the significant capital currently on the sidelines is once again deployed.





Given the "risk off" mood of many secondary market investors and the liquidity events over the past few weeks, commercial mortgage-backed securities (CMBS) lenders, mortgage real estate investment trusts (mREITs) and levered private investors are predominantly out of the market. Most life companies and pension funds have taken a pause or are pricing to floors which preclude much if any new volume. Transitional financing for lease-up and acq/rehab opportunities is generally unavailable. Fannie Mae, Freddie Mac and the Federal Housing Administration (FHA) remain a bright spot for Multifamily, Seniors and Healthcare lending, actively quoting, underwriting and closing transactions.

Fannie Mae and Freddie Mac have made the following adjustments to their lending requirements to prepare for the impact of COVID-19:
Effective March 24th, Fannie Mae is requiring a debt service reserve for all loans > 55% leverage and/or < 1.55x debt service coverage ratio (DSCR). This additional reserve includes amortizing principal & interest, taxes, insurance and replacement reserves in an amount equal to six to 18 months depending on the loan's leverage and underwritten cash flow, with higher leverage and smaller loans requiring a larger reserve. The reserve will be held for a minimum of six months from the origination date plus two consecutive quarters of achievement of the approved DSCR. Variable rate loans will be calculated based on a comparable fixed rate equivalent.
Freddie Mac will implement more conservative leverage and cash flow requirements for cash-out refinances, supplemental loans and loans in certain markets expected to be most affected by the virus on a case by case basis. We expect additional guidance over the next few days which we will forward when received.
Both government-sponsored enterprises (GSEs) are taking a conservative approach to underwriting commercial income, properties and products that rely heavily on underwriting future income projections – including Student Housing, lease-up or nearly stabilized assets and value-add or rehab properties. According to the Centers for Disease Control (CDC), those age 65 and older or those who live in a nursing home or senior care facility are most at risk for severe illness. Newmark, working in tandem with the GSEs, will closely evaluate each Seniors Housing transaction in order to determine whether a reasonable loan can be structured during this time.
Forbearance
On March 23rd, the Federal Housing Finance Agency (FHFA) issued a directive that Fannie Mae and Freddie Mac will offer multifamily property owners mortgage forbearance with the condition that they suspend all evictions for renters unable to pay rent due to the impact of coronavirus. For loans and borrowers that qualify, both GSEs will offer three consecutive months of forbearance with the forborne payment total to be repaid over the ensuing 12-month period, without additional interest, late fees or change in amortization. Similar to prior disaster relief recovery plans, the Borrower must demonstrate financial hardship due to COVID-19 through required documentation. Borrowers are asked to contact their Newmark portfolio manager for details if they can no longer meet debt obligations.

Pricing
The 10-year Treasury swung over a 137-basis point range in the last 90 days, reaching a low of 0.54% on March 9th, one day after Italy placed all 60 million residents on lockdown. Volatility has continued over the last four weeks as the World Health Organization (WHO) declared the outbreak a pandemic, the President issued travel bans, numerous states issued stay-at-home orders and the number of confirmed cases in the US continued rising. Although the current 10-year Treasury hovers around 80 basis points (as of March 25th), all-in interest rates for most full-leverage loans are near or exceeding 4.0%.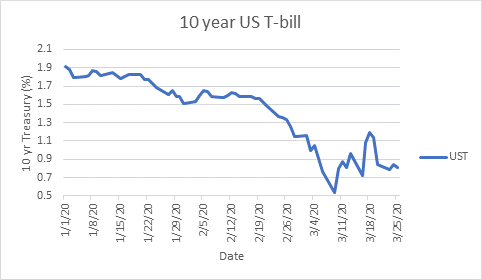 Please be well during this unprecedented time and feel free to contact me or your NKF teams with any questions.

Sincerely,

Jeff Day
President and Head of Multifamily Capital Markets,
Chief Strategy Officer
jeff.day@ngkf.com